It's amazing where a little passion can take you...
The question I get more than any other is,
"How did you get to where you are today?"
I'm so grateful for the number of times this question has come my way, and the truth is that a lot of things contributed to my current role as an independent luxury travel content creator. The short version goes something like this:
By the time I was 22 I had graduated from the University of Western Ontario with an Honours Major Degree in Media, Information, and Technology with a Minor in Creative Writing, and was working for Edelman, the world's largest independently owned PR firm, a job I landed straight out of school. I loved my work and I loved my job, but it was too easy to see the next 30 years of my life unfolding at the same company, with the same clients, in the same city. I quit after 11 months, booked a one-way ticket to Kathmandu, and travelled through Nepal, Thailand, and Indonesia for 3 months.
I came back from that trip completely broke and spent the next 12 months penniless, directionless, frustrated, lost, and unmotivated. I wasn't working. I was living with my boyfriend and his three friends. I couldn't even rationalize a tall blonde roast from Starbucks. I straight up didn't know what to do with my life. I only knew that whatever it was I ended up doing, I wanted to love it, to pour my heart and soul into it, and to feel good about whatever it was I was doing. I didn't think I'd find that in the 9-5.
During this year off, I prioritized self-education and read books like Tim Ferriss' 4 Hour Work Week, Paulo Coelho's Alchemist, and The Celestine Prophecy by James Redfield. I learned the importance of managing my emotions and thoughts, and right before my 25th birthday, I made the conscious decision to choose gratitude over self-loathing, leave the dark vibes behind, and manifest my dream life.
Well, like... I knew I wanted to manifest my dream life, but I still had no idea what that even was... so I started this task by making an Oprah Vision Board. I cut-and-pasted images and phrases around travel and photography, writing, social media, luxury living, confidence, and self-mastery. And my God is this Oprah woman magic, because within a single week of completing my vision board, the perfect job opportunity appeared out of nowhere (on Craigslist).
The job was for a social media coordinator position at a Vancouver-based cruise agency, and everything about it was perfect for me: it was in the travel industry, fit my PR background, and I had opportunities to go on cruises and create my own luxury travel content. The only downside was that the job was supposed to be an in-house 9-5...
So I showed up to the interview, mustered all the remaining self-confidence I had, and talked them into giving me the position on a full-time remote basis. (This is one of my favourite life accomplishments. You never know unless you try!)
Even though the cruise job was great and I was working from anywhere I wanted, I still hadn't exactly found my passion yet, so I created a system that enabled me to outsource most of my daily work tasks so that I could spend less time on job duties and more time doing things that gave me positive energy, like writing and practicing photography, while exploring countries in Central America, as well as the Bahamas and the Philippines.
Out of the 8 months I was with the cruise company, I spent 6 of those months without any money worries or time constraints, and I used this time to try new things while picking up on my own vibes - if something felt good, I did more of it; and if it felt weird, I did less. It was during this time that I zeroed in on the four things that made me happiest in life: photography, business development, creative writing, and seeing the world.
The health of the cruise agency took a turn for the worst after my 8th month with them, and I was let go along with several others from the company. I took it as a sign to start my own social media marketing business, sociallume.com, which I have been running ever since on a 100% remote basis, built on the four pillars of my happiest life.
I am still with the same additional client who joined me during my time with the cruise company, and I have added several other notable companies to the roster including Ritz-Carlton, Shangri-La, Four Seasons, and the Dorchester Collection hotels, to name a few recognizable brands, which I have worked with in Bali, Singapore, the Maldives, Thailand, Israel, Morocco, Paris, and Dubai.
I now spend about 6-8 months of the year travelling for work, and the remaining 4-6 months living at home in Vancouver, Canada, usually playing catchup on everything I can't keep up with while on the road. I work way more than 5 hours per month now (more like 300, not including travel time), but at the end of the day, all my energy is going into projects that I'm thrilled to be a part of, fuelling my passions, and I'm living a life that I created on my own terms. And there is simply no feeling like it.
Aside from running my business, I'm incredibly passionate about encouraging people to do their own thing. The system isn't a good fit for everyone, and parents don't always know what they're talking about. The only way to be authentically happy is to tap into your inner self, visualize your perfect life, and then build your way towards it using your passions and talents.
Our days dissolve at the same rate regardless of whether we spend them numbing ourselves from the life we have, or actively creating a happy life we're proud to live. Why not choose happy? Don't be scared to be happy.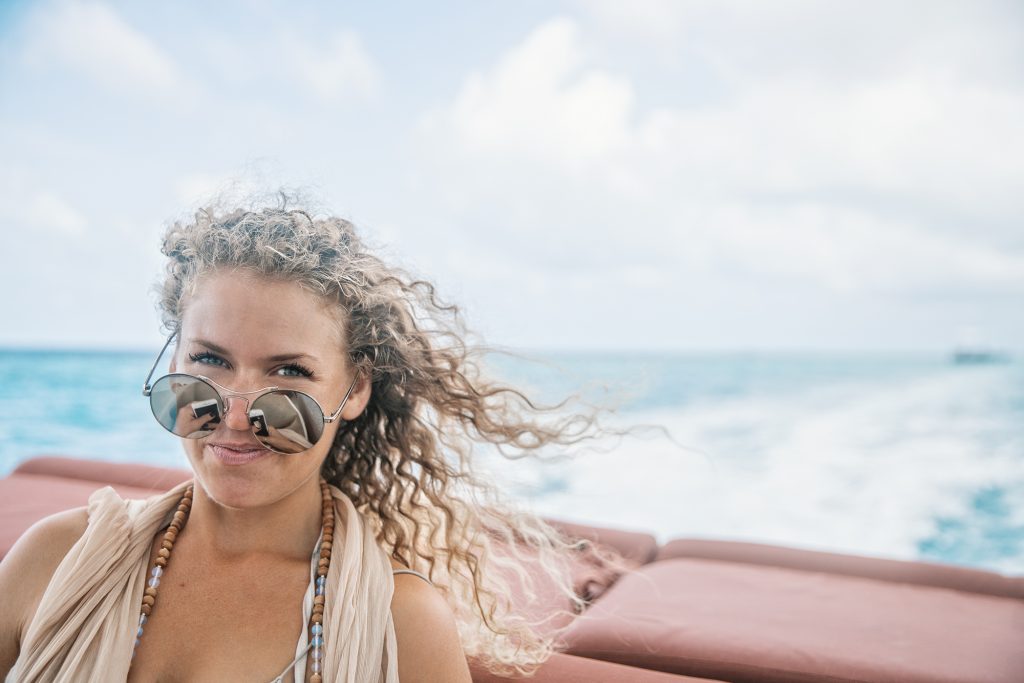 I wrote Not Cut Out for the 9-5 to share my full story with all the details so you can see exactly what I did to break out of the 9-5, as well as show that even though major life transitions can be pretty destabilizing, they aren't too complicated to get through once you know the order of operations.
That was the hardest part for me. Figuring out what I was supposed to do, and then how I was supposed to make it happen. Even after doing a bunch of research it felt like there wasn't much out there in terms of resources or access to other people who had succeeded in their own transitions and were willing to share their experiences, so I also created a private community to help make things easier for others who want to build a life on their own terms. It's everything I wish I had during my own transition, so I encourage you to collect my Welcome Package below, which contains the private URL to join.
---
"Now is the time. Now is always the time, and will always be the time. Waiting - why wait? For what, the "perfect" time? The perfect time is right now, because you will never be younger than you are in this very moment, and you will never have more future ahead of you than you do in this very moment. Making moves right now is the ultimate gift you can ever provide your future self, because the sooner you start, the longer you'll have to thrive."
- Chapter 6; If You're Not Sure What to Do, Do This
---
We all deserve to be happy on our own terms, whatever that may be. How will the story go for you?
Yours truly,

Access my Private Community